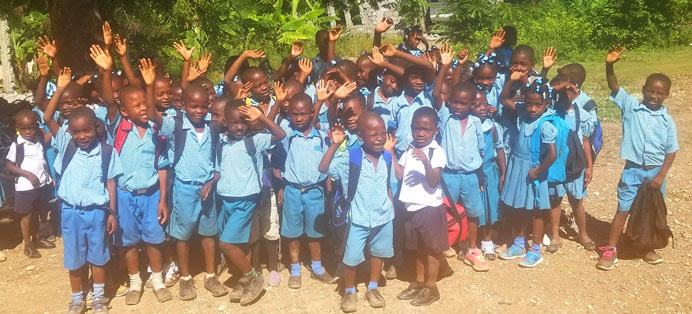 Thanks to all of you, there will be a joyful Christmas this year, fourteen months after Hurricane Matthew ripped through the Sassier area, leaving devastation and destruction in its path.
Your immediate response ensured that food and emergency supplies were available, well before the Government or international NGOs responded.
Thousands of metal roofing sheets, nails and wood were provided, so that people could have roofs on their homes again.
Repairs were made to school and parish buildings, making them fully functional again.
Scholarships were provided to hundreds of students, whose parents had no means to pay school fees. All students received free hot meals during the school year. More than $20,000 of new school books were purchased to replace those destroyed in the Storm.
The Sassier Medical Clinic has served more than 1000 patients, and is expanding the range of services available to the greater Sassier community.
More than 230 farmers received high quality seed, tools, technical assistance and ongoing support; a second good harvest is now providing families with food to eat and additional food to sell.
More than 2000 fruit trees have been distributed and planted by farmers; in three years these will provide a bounty of good food for families and cash for needed expenses.
A farmers' cooperative is now being incorporated; agricultural production and processing will expand significantly in 2018.
Without you, none of this would be possible. With you, our sisters and brothers in Sassier have hope and joy this Christmas. Last year, there was none.
They, and we, are so very grateful to you all. Our best wishes for a blessed and peaceful Christmas and a New Year filled with good health and joy.